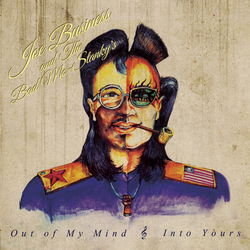 NEW RELEASE! January 28th, 2014
Out of My Mind & Into Yours!
By Joe Business & The Bad Mo Stanky's


Good songs to represent the past while using today's technology to enhance great melodies and rhythms for the future!
Preview Trailer Click Here

To Purchase: Google Play or iItunes

---
"I Don't Care"

I don't care! A thought, an attitude. I don't care about the past, I am now. How, why, or what others have had to do in order to be recognized, shows me only one purpose, to learn from their assets and mistakes. I have no intention of short changing myself to appeal to an audience who is interested in a façade. I am here to present myself as me….no bull….no hype! Power is my essence. Power of emotion, power of direction, power of musicianship, and the power of others respect. All one needs to do is listen, and the music says it all.
Featured Music Video: What Duh!